Lukasz Wegrzynski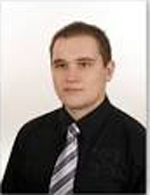 M.Sc. Lukasz Wegrzynski is a graduate of the Department of Electronics and the Institute of Optoelectronics of the Military University of Technology in Warsaw. He majored in Electronics and Telecommunications with a specialization in Telecommunications Systems and Optoelectronic Systems – Lasers. Since the beginning of his career, he has worked extensively in the fields of electronics, laser technology and scientific research along with the possibility of commercialization.
He has many years of experience in research projects on the interaction of laser pulses with matter, construction of radiation sources in the extreme ultraviolet EUV (English. Extreme Ultraviolet) and soft X-ray SXR (English. Soft X-Ray). He is actively involved in the development and research of new systems for manufacturing laser targets. He is the author of a unique system for producing cluster targets based on a double gas shield and a system for producing aerosol targets under vacuum conditions, which are the subject of his doctoral thesis being carried out at the Military University of Technology.
His scientific achievements are supported by numerous articles in reputable international journals.
In addition to scientific and research topics, M.Sc. Lukasz Wegrzynski deals with the design and commissioning of digital and analog electronic circuits. He is co-author of a new design for the optoelectronic head of the DAOS intraoral scanner. He is actively involved in both small-scale projects to construct optoelectronic devices and in the construction of large-scale research facilities, such as PolFEL (Polish Free Electron Laser). He is passionate about electronics, spreading electronic knowledge and programming. jc
Adam Szymanski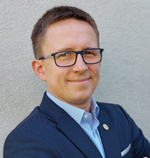 M.Sc. Adam Szymanski is a graduate of the Poznań University of Technology with a specialization in transportation and the Poznań University of Economics. He has been involved in youth activities for many years. Even as a PP student, he showed initiative and exceptionally strong commitment to society. He promoted technical professions and majors by initiating local events such as: Tech Days, Mechanic Days, Transportation Ecology Days.
After completing his education, he focused on integrating the academic community of Polish technical universities and high school students. He has been involved in fostering technical culture, popularizing issues related to science and technology by organizing seminars, conferences, engineering debates or building a website. While a student, Adam Szymanski became involved in building a nationwide educational program to properly prepare young people for their internships, apprenticeships and jobs. Currently, the projects headed by A. Szymanski: the Safe Practices and Environment program and the Safe Work and Environment program have become key programs in Poland on the subject of work safety, internships and apprenticeships. The programs are carried out jointly with the largest institutions in Poland: ZUS, PIP, State Fire Service, UDT, Higher Mining Authority, General Directorate of Environmental Protection.
He is currently engaged in business, and also serves as President of the Association for the Support of Polish Technology Branch in Poznan and Chairman of the Team for the Support of Polish Technology. Safe Practices and Environment Program at the FSNT NOT General Assembly. He is an active member of the Association of Polish Mechanical Engineers and a member of the Youth Commission of the FSNT-NOT Governing Body. He holds the NOT Silver and Gold Badges of Honor. mj
Lukasz Pytlarczyk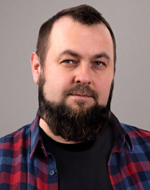 M.Sc. Lukasz Pytlarczyk graduated in 2010. Studying at the Faculty of Electronics and Information Technology, Macro-Directorate: Computer Science, Automation and Robotics, Electronics and Telecommunications, specializing in electronics and computer engineering at the Warsaw University of Technology.
Since the beginning of his career, he has developed his skills interdisciplinarily, from high-level programming (database programming at PKP Informatics), low-level programming (microcontrollers) through electronics (design and commissioning of electronic devices) to mechanical and machining issues (CAD and CNC machines). In each of these fields, he has participated in larger and smaller industrial and research projects, creating both individual solutions and being part of larger projects.
He has been involved in biotech-related projects for almost his entire work history. In 2018-2019, for a year at the head of a small engineering team, he created a system for generating an electric field in Pertti dishes in an incubator, along with monitoring parameters. The system was used to conduct a successful in vitro experiment on brain tumor cells (gliomas).
Starting in 2019. works at Medisensonic SA (formerly Rodoconsulting Ltd.) where he started as an electronics designer for the MPVT dental pulp testing system. As the company grew, it was incorporated, among other things. to the designs of the label-free blood pressure monitor (Touchwave), the non-invasive glucometer (Glucowave) or the automatic dental scanner (DAOS). For more than a year, he has taken on the role of managing a growing research and development department, where he leads the work of talented engineers to complete the listed, and many new, research and development projects.
In 2023. planned and oversaw the relocation of the company's headquarters, resulting in a state-of-the-art research and development laboratory. jc